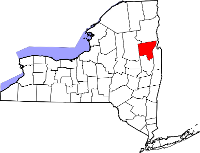 Next Meeting
Our next regular meeting will be held on Friday, October 15th , 2021 at Frederick' Restaurant, 4970 Lake Shore Dr, Bolton Landing, NY 12814.

The business meeting for the active members will start at 11:30 am.

This month's vendors are: STEPHENSON EQUIPMENT INC., TRACEY ROAD EQUIPMENT, ALTA CONSTRUCTION EQUIPMENT NEW YORK & MILTON CAT.
7th Annual Golf Tournament
What could be better than spending an afternoon playing golf during the 2021 Fall months? If you relish the idea of driving the links with your friends, colleagues, and/or golfing buddies, you'll be thrilled to find out about the upcoming 7th Annual THSAWC Golf Tournament. You'll be able to pair your love of golf with the socially responsible activity of helping raise money for THSAWC programs (Skye Camp, Scholarships, Envirothon, Adopt-a-Family, North Country Ministry). The event will be a great deal of fun for everyone involved, and THSAWC programs will greatly benefit from the proceeds.

To register, simply complete this form and mail it along with your registration fee to WCDPW, Attn: Kevin Hajos, 4028 Main Street, Warrensburg, NY 12885. If you're interested in a sponsorship opportunity or making a door prize donation, please indicate your interest on the form. You may reach me at (518)260-7071 or khajos@warrencountydpw.com if I can answer any questions for you.
Warren County Highway Employee Safety Days
2021 Safety Days have been canceled.
Safety Training
Dues
2021 MEMBERSHIP DUES

ACTIVE: Town Highway Superintendents, etc., $10.00 per year.

HONORARY: Any former Active Members or Officers no longer in public service, no fee, unless you want voting rights.

RETIRED BUSINESS MEMBERS: Retired vendors $20.00.

DUES FOR BUSINESS MEMBERS:

-$325.00 - half page ad/luncheons/dues

-$375.00 - full page ad/luncheons/dues

-$450.00 - double page ad/luncheons/dues

Please contact Joan at (518) 824-8831 for general questions.
Cornell Local Roads Program
Latest issue of Nuggets and Nibbles is out and the first article is CLRP Outreach Will Continue. Get the full scoop and information about upcoming trainings by checking out their website.