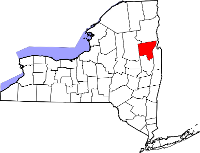 Next Meeting
Our next regular meeting will be held on Thursday, June 9, 2022 at The Tavern, 340 Aviation Rd., Ste #6 Queensbury.

The business meeting for the active members will start at 11:30 am.

This month's vendors are: Haun Welding Supply, Trius Inc., North Country Radiator, Cyncon and Milton Cat.
Warren County Highway Employee Safety Days
We are planning to host the popular Highway Employee Safety Days once again this year at the Warren County Fairgrounds on May 24 & 25, 2022 - Flyer . This year we have several opportunities for your company to be involved in the event. Sponsorship levels start at just $50 which include an advertisement in the attendee handout and a display space at the event. For those that wish to contribute more we offer sponsorships of various sizes including a lunch co-sponsor. If you would like to provide an item for a raffle, we welcome that and will make sure to include your name and contact information in the attendee handout.

This is sure to be an outstanding event for the hundreds of highway workers in Warren County. We hope you will consider being a part of it. All payments and raffle items are due no later than May 10, 2022. Sponsor Form
Thank you to the following sponsors:

Peckham Industries www.peckham.com
Marshall & Sterling Insurance www.marshallsterling.com/employee-benefits
Jointa Galusha LLC https://dacollinscompanies.com/
Highmark Northeastern New York www.bsneny.com
Gallagher Insurance www.ajg.com
CSEA Local 857 www.cseaunit9000.org
2022 Membership and Dues
Membership Form

2022 MEMBERSHIP DUES

ACTIVE: Town Highway Superintendents, etc., $10.00 per year.

HONORARY: Any former Active Members or Officers no longer in public service, no fee, unless you want voting rights.

RETIRED BUSINESS MEMBERS: Retired vendors $20.00.

DUES FOR BUSINESS MEMBERS:

-$325.00 - half page ad/luncheons/dues

-$375.00 - full page ad/luncheons/dues

-$450.00 - double page ad/luncheons/dues

Please contact Joan at (518) 824-8831 for general questions.
Safety Training
Cornell Local Roads Program
Latest issue of Nuggets and Nibbles is out and the first article is CLRP Outreach Will Continue. Get the full scoop and information about upcoming trainings by checking out their website.