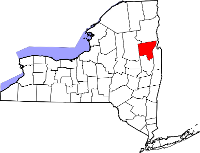 Next Meeting
Due to the recent uptick of COVID cases, we feel it would be in the best interest of all to cancel the January meeting. We will continue to monitor the pandemic and proceed month by month.

Invoices will be coming out this month. Please make sure you include any changes in membership when submitting payment. Thank you for your continued support and let's hope for another successful year.
Warren County Highway Employee Safety Days
2021 Safety Days have been canceled.
Safety Training
Dues
2021 MEMBERSHIP DUES

ACTIVE: Town Highway Superintendents, etc., $10.00 per year.

HONORARY: Any former Active Members or Officers no longer in public service, no fee, unless you want voting rights.

RETIRED BUSINESS MEMBERS: Retired vendors $20.00.

DUES FOR BUSINESS MEMBERS:

-$325.00 - half page ad/luncheons/dues

-$375.00 - full page ad/luncheons/dues

-$450.00 - double page ad/luncheons/dues

Please contact Joan at (518) 824-8831 for general questions.
Cornell Local Roads Program
Latest issue of Nuggets and Nibbles is out and the first article is CLRP Outreach Will Continue. Get the full scoop and information about upcoming trainings by checking out their website.